[This is a guest blog post by Isaac Griberg, Social Media Officer at the International Committee of the Red Cross (ICRC) and MA Social Media student at Birmingham City University]
Dear Mapsters,
First of all, kudos for all the work you guys are doing at the intersection of GIS and relief work. I believe the humanitarian community needs an injection of not only your skill set, but also your passion and dedication. In my work I often touch on topics related to the SBTF and other V&TCs. Many times I have been stunned by your neat applications and slick sites offering ways for the public to provide first responders with crisis data, but never have I understood who really 'pulls the rope' on the back-end. Who are you?
To answer this question I finally decided to conduct a small study within the framework of my graduate class. While most researchers in the field of crisis mapping have looked at the technology, I decided to shed some light on the volunteers themselves - you - who did the heavy lifting of initiatives like LibyaCrisisMap. Ultimately I wanted to learn about your motivation in doing volunteer work. The findings, presented below, might not represent the entire SBTF community and should be treated as a base for further studies.
According to the study:
A typical SBTF volunteer is male and 32 years old. He holds, or is currently enrolled in studies leading to, a Master's degree in computer science, development studies or international relations. He often works as expert in GIS or ICT and has some experience from public sector or non-profit environments.
SBTF volunteers are genuinely concerned about the people they help. To them volunteer work provides an opportunity to learn through 'hands-on' experience, to further one's professional career, and to make new friends. Some seek new perspectives or self-esteem, while few seek recognition or a means to overcome guilt of being more fortunate than others.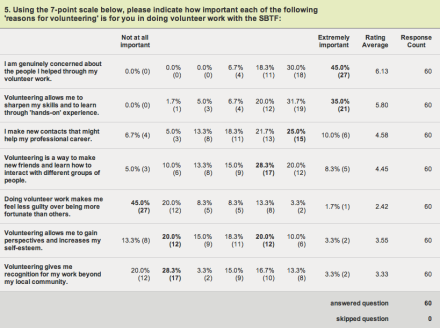 Is this you? Please do leave a comment. Keep up the good work and, finally, a big THANKS to Patrick Meier and the 60 mapsters who kindly participated in the study. You guys rock.
Over & Out,
Isaac